The parallels between basketball and entrepreneurship are many. Actually, the same is true for sports and life in general.

I play basketball twice a week (it's my favorite form of exercise). Our 12-year-old daughter loves playing and pulling off some amazing dribble moves. I generally nerd out on the sport by researching analytics/advanced stats, answering basketball related questions on Quora, and even co-hosting a basketball podcast with my friends.

Over the years, the connection between hoops and entrepreneurship has become more clear. I'm happy to share my findings with you and hope that you use them for inspiration.

So here are nine business lessons that I've learned from my favorite sport, basketball.

You don't have to be Michael Jordan
You don't have to be the most wealthy, or the most popular business owner. Wealth and popularity don't determine happiness. I'm thankful to have a business that helps provide for my family's needs and serves its customers with excellence. I'm also happy to provide several jobs for people so that they can help provide for themselves and their families.

Play hard until the final buzzer
In business, you can't give up at the first sign of difficulty. My early years of running a business saw many ups and downs. I gained clients. I lost clients. I had up years. I have had down years, but through it all, my marketing agency and media properties are still open for business. And I intend to be actively involved until the clock hits triple zeros.

It takes a team effort
Basketball taught me that I can't play every position on the court at the same time. If I'm a shooting guard, I need a point guard to pass the ball to me when I'm in the best position to score.

I can't optimally perform every role in a business. I've learned that my best skills as a creative entrepreneur are content writing and product-making (content products specifically). My content creation talents won't be maxed out if I'm fumbling over payroll. I can slam dunk a 1000-word article, but I totally airball making and sending out 1099s. Therefore, I delegate.

Everyone needs a coach
Some of my biggest business breakthroughs came with the help of business coaches and mentors. Sometimes you need someone with more experience to 'call a play' for your team. You need someone to give you an outsider's perspective. Entrepreneurs should surround themselves with wise counsel that can help them navigate through various situations. That's just good business.

Enhanced abilities open up more opportunities
Sharpshooting players like Stephen Curry and Klay Thompson of the Golden State Warriors (it's crazy that they're on the same team!) innovated the game of basketball. They create an incredible amount of space for their team's offense to operate. Not only do they make three-pointers at a high percentage, but they make scoring easier for their teammates because they keep their defender's attention — keeping them away from their teammates. Players who defend Curry and Thompson can't play help defense. This is called magnetism in basketball terms.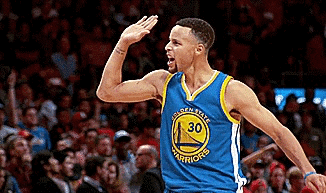 In business, entrepreneurs and teams that pick up new skills and embrace innovation will open new doors for growth. This is much better than relying on the same-old methods year after year. Companies that remain stagnant eventually die. I don't want this to be you. Therefore, keep learning and experimenting to open more opportunities for your business.

Go left when competitors expect you to go right
This one is interesting because I'm a lefty when I play sports. Left-handed basketball players have an advantage because most people in the world are right-handed. It's hard for many players to adjust to playing against left-handed players. The gem here is that it pays to have a different approach in business.

Entrepreneurs must learn to zig when the competition expects them to zag. When it seems like the world or an industry is negative on something, figure out a positive approach or solution. I've heard that "blogging is dead" a thousand times. Video is the new thing. Podcasting is the way to go. That's okay. I committed to zigging and zagging all the way to blogging success in my business.

Good defense leads to good offense
In basketball, playing good defense against your opponent can lead to your team rebounding a missed shot and dashing down the court quickly for a fast break bucket. In business, financial wisdom and security can keep you out of trouble and lead to fruitful gain. Save a portion of your earnings for emergencies and investments. Get the appropriate amount of insurance for your business. Leverage common sense and tools to protect your business, team, and data. These precautions will leave you with more time and resources to grow your business in the future.

Bad plays and losses are temporary
If I have a bad day in the business…if I lose a client…or write an article that I'm not happy with, it will be okay. I have faith that a new day will bring better results. It's important to develop a next-play mentality in entrepreneurship. When planting seeds, you don't know which ones will flourish. You just have to keep planting! I guess you can say that it's important to rebound from bad performances and mistakes.

It's important to remember that wins are temporary too. You are certain to hit some hard times in life and business. Celebrate the wins, whether big or small, but don't allow them to make you haughty or overconfident. Remain humble and consistent with wise business processes and you will be rewarded.

Every player needs rest
You will rarely see an NBA player play all 48 minutes of a four-quarter basketball game. Players need to take a break on the bench to rest and recharge. The goal is to catch your breath and replenish fluids so that you can get back into the game. It took me a while to learn this. Vacations and Sabbath rest (typically Saturdays for me) are important for my life. Entrepreneurs need to rest so that they can be present with their family and friends, and recharge their batteries. Resting will help you return to work with a fresh mind and fresh ideas.

Conclusion
So, are you ready to drive down the lane and power slam on your business goals? Yes, the cheesiness was intentional there. Ha!

In all seriousness, I hope that I have either piqued your interest in the lovely game of basketball and/or inspired you to grow your business with more courage and creativity. Please leave a response or comment below and let me know how this article has touched you.